VIABLE AND NON VIABLE ENVIROMENTAL MONITORING STRATEGY FOR REAL TIME RELEASE IN PHARMA INDUSTRY
Authors:
Gilberto Dalmaso
Keywords:
Monitoring, Microbiological Tests, Rapid Microbiological Methods, Analytical Methods, Real-time, QbD, RMM, Timely Measurements, PAT, Rapid Results
Abstract:
The scope of this presentation is to show the usefulness and potentialities of this new rapid microbiological technology/method implemented in the pharmaceutical field in viable and non viable environmental monitoring strategy for real time release in pharma industry and in particular applied on the manufacturing process investigation, using the real-time evaluation, to engage the suitable corrective actions and resolute remedy at the right time. This application has been fundamental to solve an important problem in a short time against the microbiological traditional method resolution, regarding the manufacturing process, which allowed discover and identify considerable benefits. Every day the samples have been analysed in real-time and these results provided a useful mapping of all critical points contaminated to allow the specific actions implementation, reconsider the numbers and type of environmental monitoring and re-samples and which type of sanitization carry out to remove the problem. It is important to underline that the new technology has been able to provide economical benefits in terms of "safe-costs" and the "stock-out" risk reduction of the products as well. Moreover the case study reported has also been useful to implement the process understanding evaluation related to the test carried out in the laboratory until now. This means that in a lot of other fields and other type of analyses this rapid microbiology and the correlated technology could be implemented to improve the quality of the process and the risk of management.
Article:
.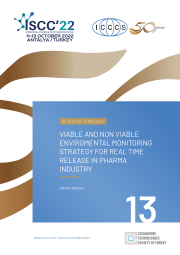 Click to Download PDF